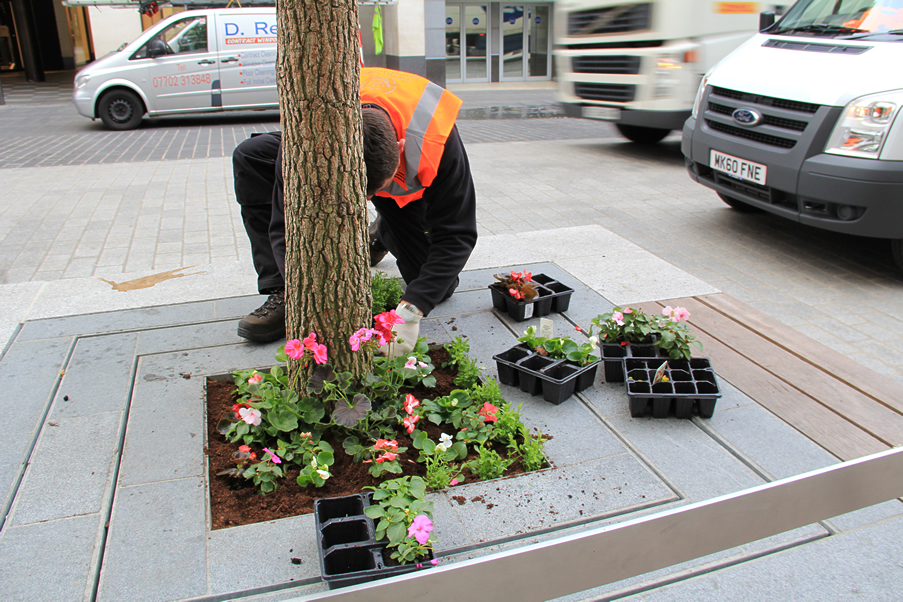 Hanging Baskets install & maintain in Liverpool's retail heartland
North West Landscapes has invested in the infrastructure and tools to deliver beautiful floral displays and maintain them in perfect condition regardless of weather. It's quite a programme and our expertise is recognised in the most demanding environment, Liverpool's retail centre. We've been installing and maintaining hanging baskets in Liverpool city centre for over 3 years now.
Working in partnership with City Central BID, we install seasonal displays and maintain a rigorous cycle of watering and feeding to ensure the displays never lose their freshness and vitality. Our work has received great praise from retailers and the chief executive of Liverpool's City Central BID, Ged Gibbons, who describes North West Landscapes as having
"a massive 'can-do' attitude – commercially the best partnership I've got"
Our work in the early morning makes us extremely well placed to refurbish street furniture including bins, benches and lamp-posts in the retail district. Watch the video, right for a look at what we do.
Over 680 floral displays maintained in demanding retail environment 24/7 across the seasons
Additional Facilities management
North West Landscapes partners with City Central BID & the Commercial District – organisations representing over 750 businesses in the heart of the city. We install and maintain baskets in the main shopping thoroughfares of the city. Before the town comes to life, we're out watering throughout the summer months. When temperatures rise, we're there with increased frequency to maintain the displays in tip-top condition. This short film clip from City Central BID's annual review film showcases our work including bench and bin painting, plus the refurbishment of the Liverpool Pop Wall in iconic Mathew Street, home of the Cavern and the Beatles